Hippity, Hoppity Easter's On It's Way
*The first of my Easter decor*
I know, I know...there have been so many of these bunny topiaries done, but It's just too cute not to share. Here is my version.
I picked up these supplies:
Mossy Bunny on a stick(Pier 1 Imports $2.99)
Galvanized Bucket(local dollar store $1)
Moss & Foam(JoAnn Fabrics $3.99)
Hot Glue
First, cut your foam down to fit into the bucket.
To make sure it was a snug fit, I stuck some plastic bags on the sides of the foam. Good way to recycle some plastic bags!
Stick in your Moss Bunny on a stick then start hot gluing the moss till you get the look you like. Pretty simple!
Here it is completed. Very simple, and no frills! I love a more natural look.
Check out this cute little Bunny I got at a local store called
Real Deals
*if you have one nearby, you should check it out....cute stuff!
I found him in the 50% off discounted seasonal stuff back in January! I love finding good deals. More cute Easter stuff is on the way...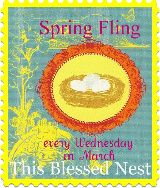 http://www.bluecricketdesign.net/